Description
Laneige Homme Blue Energy Skin Toner EX 180ml
(For Men's)
A gel-type anti-aging toner that replenishes intense moisture and soothes tired looking skin to help the skin appear elastic and clear
Details
LANEIGE HOMME Blue Energy EX Line
Helps men maintain their elastic and clean skin
with clear, strong vital power sourced from the Sea
A gel-type anti-aging toner that replenishes intense moisture and soothes tired looking skin to
help the skin appear elastic and clear.
Key Point
Key Point 01.
Contains 79.5% Deep Sea Water
This toner contains 79.5% deep sea water that delivers clear and clean water from deep sea, making men's skin clear and clean.
Key Point 02.
4X Multi-Function
It provides intensive care for lack of moisture, lack of vitality, reduced elasticity, fine wrinkles, and after shaving among the major skin stress factors for men, to make men's skin elastic and clean.
Key Point 03.
Upgrading Youthful Force™
The Essence in Lotion containing Deep Sea Water, which revitalizes the skin, and Spirulina Extract, which has kept its powerful life force, makes men's skin elastic and clean.
Key Point 04.
Smooth texture and fresh scent
The moist and smooth texture and the citrus spicy scent provide a clear, refreshing feeling with every use.
Texture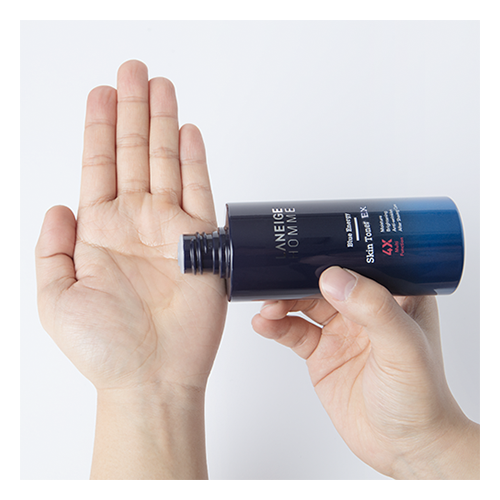 How to use
1) After using a skin toner in the morning and the evening, take a suitable amount on the palm.

2) apply it on the face and the neck by lightly tapping.
Precaution
1) If skin develops abnormal symptoms and side effects such as red spots, swelling, and itching while using the product, or if the application area develops the symptoms above after exposure to direct sunlight, consult your dermatologist.

2) Do not use on open wounds.

3) Storage & Handling
 (1) Keep out of reach of children.
 (2) Keep away from direct sunlight.