Description
Laneige Time Freeze Skin Refiner 120ml
Anti-wrinkle toner with effective anti-aging ingredients to make the skin appear soft, supple and radiant
Details
Elastic skin with improved moisture and elasticity
The strong anti-aging substance of Musk Mallow Water and Carob Bean Extract and low-molecular hyaluronic acid with elasticity effect fill skin with elasticity and moisture
Key Point
Key Points 1
Moisture elasticity UP — provides both anti-aging and moisturizing effect!
The strong anti-aging properties of Musk Mallow Water and Carob Bean Extract improve skin elasticity, while low-molecular hyaluronic acid improves skin moisture and elasticity.
Key Points 2
Contains plant-derived peptide that fills skin with elasticity!
Plant-derived, low-molecular hyaluronic acid with excellent anti-aging effect for a more elastic and smoother skin.
Key Points 3
Soft application, radiant skin
The light and soft anti-aging refiner strengthens the skin for a healthier, radiant, and elastic skin.
How to use
After cleansing, dispense an appropriate amount.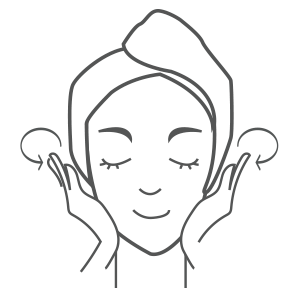 gently apply from center of face towards the contour.
Precaution
1) If skin develops abnormal symptoms and side effects such as red spots, swelling, and itching while using the product, or if the application area develops the symptoms above after exposure to direct sunlight, consult your dermatologist

2) Do not apply on areas with open wounds

3) Storage & Handling
(1) Keep out of reach of children
(2) Keep away from direct sunlight